If you feel like chicken tonight, you're not alone' and boy do we have just the thing for you! 5-ingredient Paleo Chicken Nuggets anyone? Perfect for the kids (and by kids, we mean the big kids too), this nice version of a traditionally naughty dish will impress the pants off just about anyone you serve it to 'Äì and the best thing of all is they won't believe you when you tell them it's healthy.

With only 5-ingredients necessary, this no muss no fuss recipe makes the perfect weekday dinner and is courtesy of Shannon Cooper, the brains and beauty behind My Food Religion, a blog that's dedicated to making healthy meals taste delicious. This particular recipe is from Shannon's E-Book CBF Paleo For Kids – a book that was designed to help nourish the little (and big) bodies in your life with as little fuss and as much nutritional bang for your buck as possible.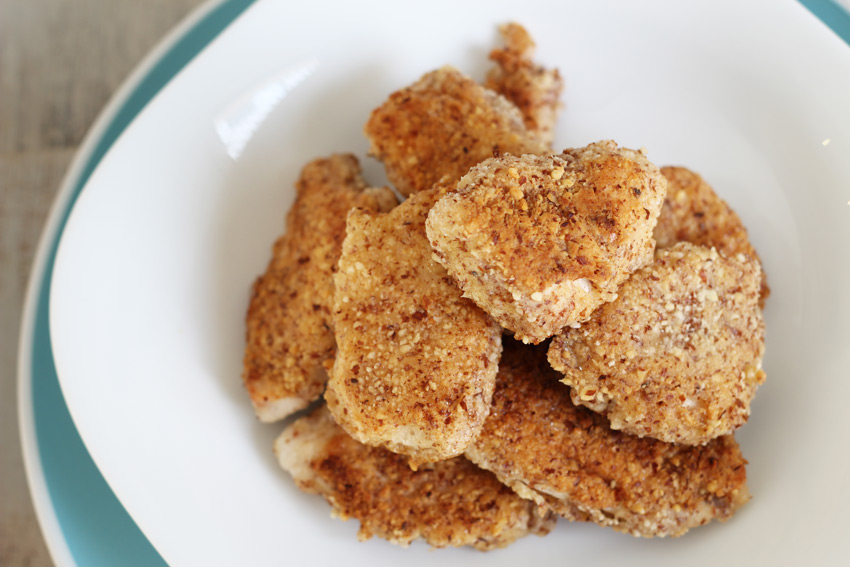 Ingredients
1 cup almond meal (you can substitute for another nut meal)
1/2 cup arrowroot/tapioca flour
Coconut oil/ghee/butter/macadamia oil for cooking
Directions

Chop your chicken breasts into nugget-sized portions and set aside. Get 3 bowls. In one, pop the tapioca flour, one the eggs, one the almond meal with a good whack of salt & pepper mixed through. Now we are going to do a little production line. Line the bowls up in that order. Take your chicken piece, coat it in the tapioca flour, then dunk it in the egg, and finally roll it in the almond meal then set aside on a board until you have done this with all your nuggets. At this point you have 2 choices, cook your nuggets to eat now OR pop them in a container in single layers separated by baking paper to freeze for later. If you are cooking now, heat a large fry pan over medium heat, add your oil. Once the oil is hot add the nuggets being careful not to overcrowd the pan (you will need to cook them in batches). Cook until golden brown on the outside and cooked through. I love serving them with some SWEET POTATO WEDGES & LOADED GUACAMOLE.


Recipe reposted from our super amazing friends at Lorna Jane. Check out more delicious and nourishing recipes here.