Hot Smoked Chilli Lime Salmon with Buttered Potatoes
by scottdogs 10 Feb 2017
Get a load of this amazing recipe from our fantastic partners at Hello Fresh!
Hot smoked salmon is a great centerpiece for any salad. It's rich and toothsome, and can absolutely handle the intense dressing with which we're pairing it. A good thing too, because this chilli lime infusion with leave your tastebuds tingling!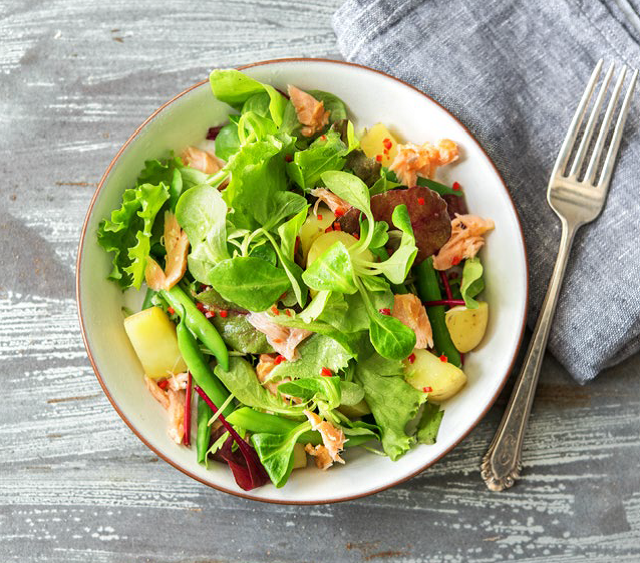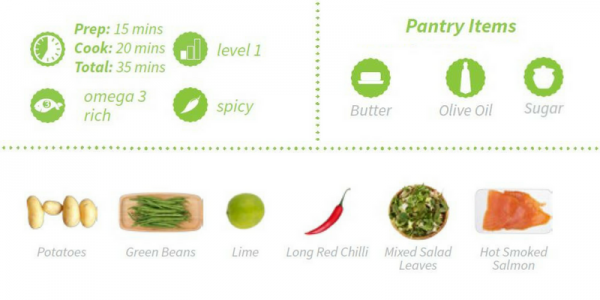 Ingredients (serves 2):
400g: potatoes, washed & chopped into 2 cm chunks
1 packet: green beans, trimmed & halved
1 tbs: butter, melted
1 ¬Ω tbs: olive oil
1/2: lime juiced
1: long red chilli, deseeded & finely sliced
pinch: sugar, to taste *
1 bag: mixed salad leaves, washed
1 bag: hot smoked salmon pieces
You will need:
Chef's knife, chopping board, sieve, large saucepan, colander, spoon, small bowl or jug, fork and large bowl.
Method:
1.
Place the potato in a large saucepan and cover with water. Add a pinch of salt and bring to the boil. Cook for 8-10 minutes, or until just soft. Add the greens beans in the last 2 minutes. Drain well. Return the potato to the saucepan. Stir through the butter and season with salt and pepper.
2.
Meanwhile, in a small bowl or jug combine the olive oil, lime juice, long red chilli and sugar. Whisk with a fork to combine well. Season to taste with salt and pepper.
3.
Add the potato, green beans, mixed salad leaves and hot smoked salmon pieces to the large salad bowl and stir through the dressing.
4.
To serve divide the salad between bowls. Enjoy!
Nutrition per serve:
Energy 2260 Kj; Protein 42.8 g; Fat, total 26.8 g, saturated 7.9 g; Carbohydrate 30.1 g, sugars 4.3 g; Sodium 955 mg
Huge thanks to Hello Fresh for this fresh and tasty recipe. Check out their fantastic range of healthy food boxes as well as more recipes on the
Hello Fresh website
.