If you were in Italy, you might come across this dish under its traditional name, Orecchiette ai Broccoletti. It's a classic Italian dish composed of a few simple ingredients, making for a quick and delicious weeknight dinner!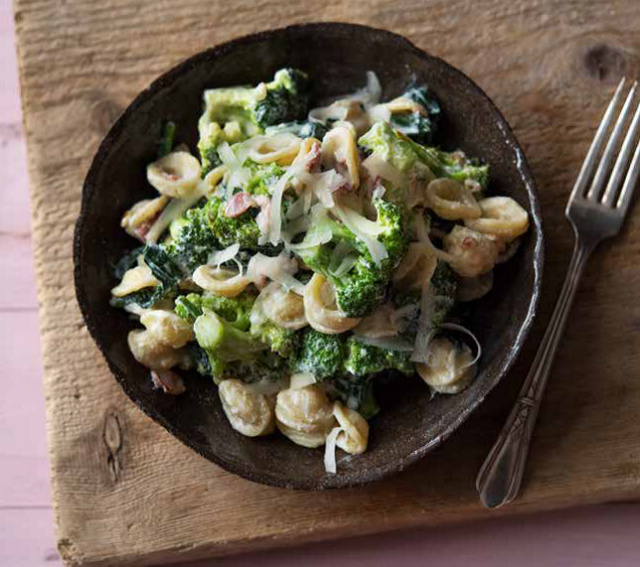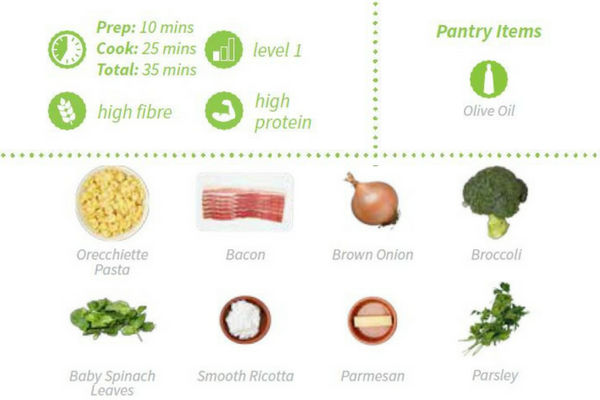 Serves: 2
Ingredients
200g orecchiette pasta
1 tbs olive oil
1 packet middle bacon, rind remove & cut into 1 cm strips
1 brown onion, finely diced
1 head broccoli, cut into small florets
1/2 bag baby spinach leaves, washed
3/4 tub smooth ricotta (recommended amount)
1/2 block Parmesan cheese, finely grated
1 bunch parsley, picked & roughly chopped
You will need
chef's knife, chopping board, box grater, large saucepan, colander, large frying pan and wooden spoon.
Method
1.
Bring a large pot of salted water to the boil.
2.
Add the orecchiette pasta to the boiling water and cook for approximately 7-8 minutes, or until 'al dente', stirring occasionally. Drain. Coat in half the olive oil to stop it from sticking to the pan. Set aside.
Note:
be sure to add the correct amount of pasta in order for your dish to be perfectly balanced, just the way we planned it!
3.
Meanwhile, in large frying pan, heat the remaining olive oil. Fry the middle bacon strips for 3-4 minutes, or until crispy and brown. Add in the brown onion and broccoli florets and cook for 3-4 minutes, or until soft. Stir in the baby spinach leaves and cook for 2-3 minutes, or until wilted down. Pour in the smooth ricotta and mix well together. Season with salt and pepper. Add the cooked orecchiette and combine together.
4.
To serve, divide the bacon and broccoli orecchiette between plates. Sprinkle with the Parmesan cheese and parsley on top. Enjoy!
Nutrition per serve
Energy 3270 Kj
Protein 39.2 g
Fat, total 29.2 g, saturated 11.5 g
Carbohydrate 82.8 g, sugars 8.9 g
Sodium 846 mg
Thanks to Hello Fresh for this wonderful recipe. Check out their great range of healthy food boxes as well as more recipes on the
Hello Fresh website
.