Rosey Chocolate Tart
by scottdogs 27 Feb 2017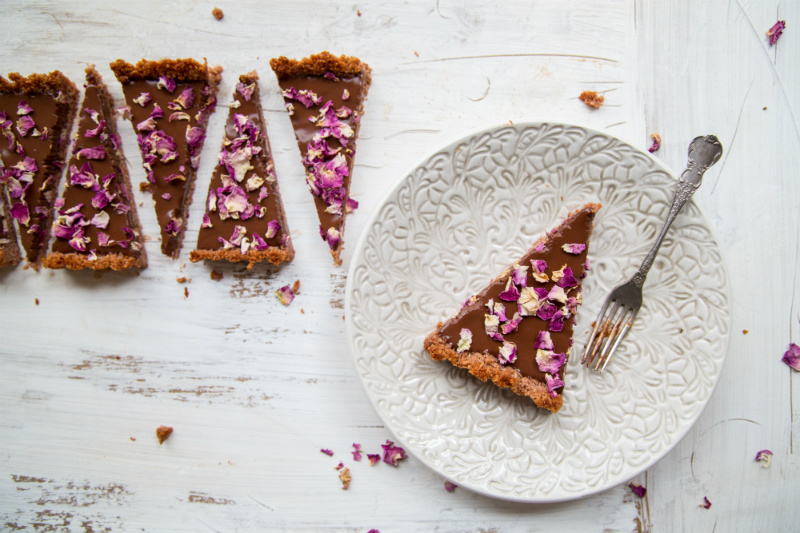 Ingredients


270 ml

coconut cream.



1 teaspoon

vanilla powder.



100 g

85-90% dark chocolate.




pinch sea salt.



1 teaspoon

rosewater.



Crust


1/3 cup

coconut oil.



1/4 cup

rice malt syrup.



2 cups

shredded coconut.



Directions
1. Preheat oven to 180ºC/350ºF/Gas Mark 4.

2. To make the crust, combine coconut oil, rice malt syrup and shredded coconut together in a mixing bowl. Press mixture into the base and up the sides of a quiche tart or tart tin - so that the mixture is approximately 5mm all around. Place into the oven and cook for 15-20 minutes until base is crispy (you might like to add a baking sheet lined with baking paper underneath to catch any coconut oil that drops down). Remove from the oven and set aside to cool and firm up.

3. Meanwhile, create a double boiler by bring about an inch of water to a simmer in a small-medium pot. Set a heatproof bowl over the top of the pot, making sure the water doesn't touch the bottom of the bowl. Add in coconut cream, dark chocolate and a good pinch of sea salt. Continuously stir for approx 5 minutes until the mixture has melted together. Remove from the heat and stir through the vanilla and rosewater.

4. Once the tart has cooked and cooled, pour in the chocolate filling and refrigerate until ganache sets, about 2 hours. Once ready to serve, garnish with some rose petals and slice into 16 thin slices.
This amazing recipe was supplied by our lovely friends at I QUIT SUGAR.