Mmm. Autumn means it's fig season. So as the temperature starts to drop, try out this simple and stylish nutty fig dish that'll warm the heart and belly. And it only takes 10 minutes to whip up.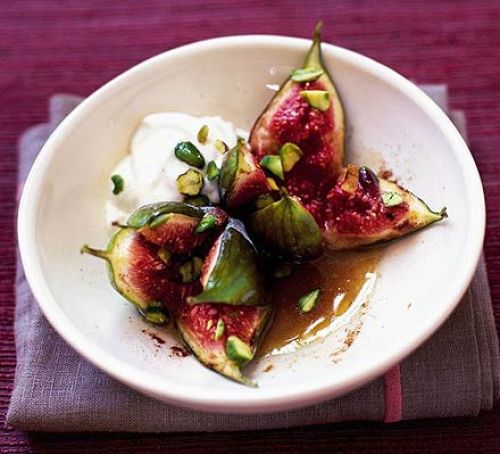 Serves: 4
Ingredients


8 ripe figs


Large knob of butter


4 tbsp clear honey


Handful shelled pistachio nuts or almonds


1 tsp ground cinnamon or mixed spice


Mascarpone or Greek yogurt, to serve


Method


Heat grill to medium high. Cut a deep cross in the top of each fig then ease the top apart like a flower. Sit the figs in a baking dish and drop a small piece of the butter into the centre of each fruit. Drizzle the honey over the figs, then sprinkle with the nuts and spice.


Grill for 5 mins until figs are softened and the honey and butter make a sticky sauce in the bottom of the dish. Serve warm, with dollops of mascarpone or yogurt.


Enjoy!
Thanks to
BBC goodfood
for the delicious recipe.