Peter McBain is our most loyal febfaster, having completed the challenge every year. In fact, he was doing febfast before febfast was an official campaign! Here are a few words of wisdom and inspiration shared by Peter: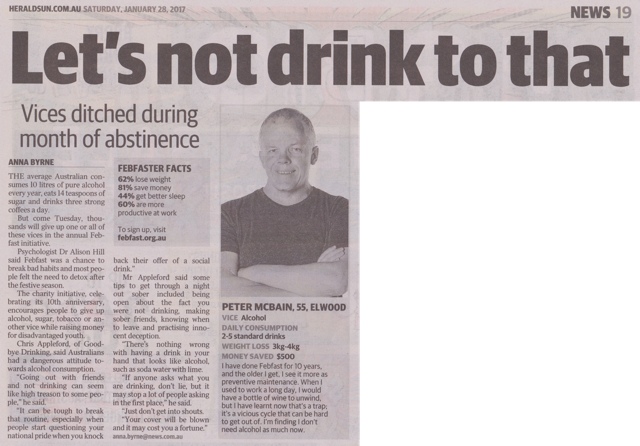 Eleven years ago, my personal trainer recommended that I take a month off alcohol in order to lose a bit of weight and feel healthier. She suggested February because it was the shortest month – so I gave it a go! The following year, I heard about a campaign called febfast where you ask people to sponsor and support you to stick out the month without drinking, and raise money for a great cause. I thought that was a win-win because I was doing a personal challenge but could also do some good with it for the community, so I registered and have been doing it every year since.
I've now done febfast for 11 years in a row and raised over $7000 in total for disadvantaged young people, which makes the effort so much more rewarding. I've only taken one time out pass, and that was the other weekend to celebrate a special occasion! It wasn't worth it to break my fast though, to be honest.
My top fundraising tip is: just ask people personally to sponsor you.
I send out an email to all my contacts but I make it personal and tell them a bit about why I'm doing febfast, the fact that I've done it every year and about the cause, then ask for their support. I also use social media to get the word out there that I'm doing febfast again – I change my cover photo for the month, share and retweet febfast posts and ask for donations. Everyone knows that I'm doing febfast in the lead up to it and during the month, so I'm able to get quite a few donations.
Every year that I do febfast it gets a bit easier. It's warm during February so it is hard when you feel like a refreshing drink, but I just make myself some fizzy ginger cordial and that refreshes me. A friend of mine found that the hardest part for her was not having a glass of wine in the evenings after work, so what she started doing was filling up her wine glass with sparkling water and it helped with the cravings. I think it's more a psychological thing than anything.
I always feel so great after finishing febfast – not only physically but mentally too, as it's such a great sense of accomplishment. I actually find it unpleasant to go back to drinking afterwards, so I feel like it has changed my attitude to drinking and I drink less throughout the year.
My number one tip for febfasters is: go easy on yourself!
Even if you only last a week or if you need to get a timeout pass once a week, that's okay. It's a challenge so it's supposed to be hard. The whole idea is to just cut back so if you're drinking less and taking notice of your habits, that's great.
If you're thinking about doing febfast next year, you should just do it. Even if you don't complete the whole month, just do your best and you will still feel a great sense of achievement.