FebFast Alcohol
Will you be ready for a break from the alcohol-drenched summer months and the over-indulgence of the festive season this February?
febfast is an opportunity for you to challenge yourself and get your health and body back on track after the excesses of the silly season. We're a community of thousands in Australia who have committed to banishing beer and bubbles for the month of February, to feel healthier and raise vital funds for young people facing disadvantage.
So take a pause for a cause this febfast and give the booze a break.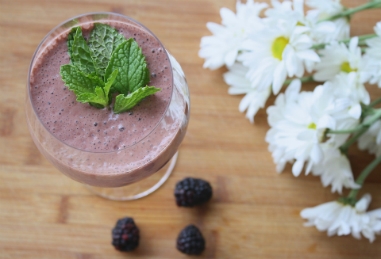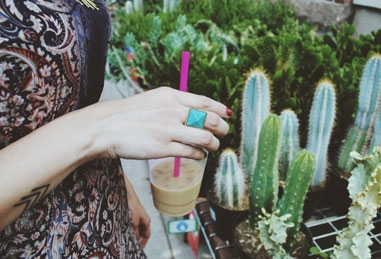 We know a month off the sauce can be tough, particularly during all those February weddings, birthdays and beautiful sunny days. So we've enlisted the help of various tasty health and wellness partners to share exclusive drink ideas and recipes with you, so you'll be able to stay on track and never get bored.
If you really must drink during February, all is not lost! We have Time Out passes you can buy to give you or your febfasting friend a 24 hour window to raise a glass at your cousin's wedding, best mate's birthday or daughter's graduation.
How To Stop Drinking
Trying to figure out how to stop drinking can be challenging, even if it's just for a one-month alcohol detox. However, these tips for how to stop drinking can make it easier:
Drink more water. Add a spritz of citrus to make plain water more refreshing.
Sparkling water. A bit of fizz makes water even more exciting.
Low-sugar drinks. Ask your host for a list of low-sugar non-alcoholic drink options.
Money motivations. Think about all the extra money you'll be saving by not buying alcohol.
Health benefits and helping others. Remind yourself that quitting alcohol for a month with febfast benefits disadvantaged youth as well as your health.
Benefits Of Giving Up Alcohol
While you might enjoy an alcoholic beverage now and again, overindulging can lead to a build-up of toxins in the body. Your organs, tissues, and essential systems can start to become overtaxed. Taking a break from alcohol allows your system a much-needed reboot, and this February is the perfect time for a month-long alcohol detox. February is febfast month, a time set aside for giving up alcohol and sugar with the proceeds benefiting disadvantaged youth. Quit alcohol and you'll enjoy health benefits like better energy levels, improved sleep, fat loss, and reduced risk of longer-term illnesses like heart disease.
Previous febfasters have reported all the wonderful outcomes below after a month off drinking: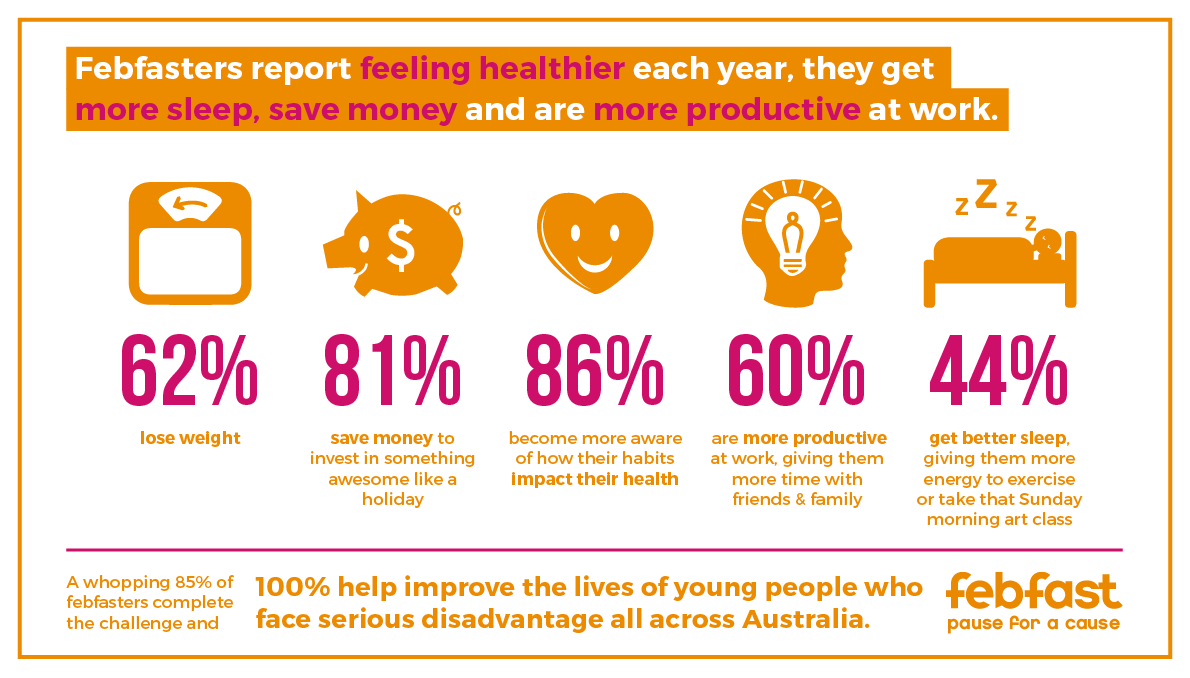 And if that doesn't convince you, recent research from the University College London has also shown a month without alcohol can reduce your risk of longer term illnesses such as heart disease. The benefits just keep on coming!
What do I get for signing up?
When you sign up to febfast, you're joining a community of thousands and pledging your support for young people. We want you to succeed, so we'll do all we can to support you. Here are some of the ways we'll help:
– Weekly emails with exclusive drink recipes, giveaways, febfast friendly venue details, activity ideas for non-hungover mornings and more
– Exclusive discounts and offers from our fabulous partners
– Access to competitions and giveaways to keep you rewarded
– We'll share ideas and updates through Facebook and Instagram
– Support you to fundraise as much as you can throughout February
– Keep you informed with the difference you are making to young people in Australia
Ready to make a difference?
Pause for a cause this February and help support Australia's youth