A fun SMS engagement program is helping February's abstinence event FebFast raise record amounts each year for the Youth Support + Advocacy Service, Liz Henderson discovers.
An infographic on the homepage of FebFast's mobile optimised website shows where fundraising is at against target and gives reasons for participating.
At a barbecue with friends in late 2006 Melburnian Fiona Healy came up with a plan to atone for the silly season. The idea was to give up alcohol for the year's shortest month, and donate funds raised from the challenge to combat youth substance abuse. The first FebFast was held in February 2007, embarked on only by Healy and one friend, Eliza Anderson, raised $910.
Fast forward to 2014 and FebFast is Australia's biggest fundraiser for solutions to youth drug addiction. This year 9,850 fasts were completed and $1,080,000 raised for the Melbourne charity, the Youth Support + Advocacy Service (YSAS), in a new event record. Registrations are now open for February 2015, and $2,308 has already been raised against a $1 million target.
SMS engagement has been one factor spurring on the recent growth of FebFast (see Table A) – initially a nonprofit organisation in its own right, which from 2011 became part of YSAS.
However FebFast's National Director, Josh Comer, points out that building participant numbers isn't the goal of the SMS program that features quirky messages like this one from a participant's heart:
"We use SMS to communicate with people who have already started the month," Comer explains. "It is principally to provide encouragement and to reassure people we are on the journey together."
To counterbalance the fact that the issue in question is so serious, "We hope to have fun with it," he adds.
"That's why we get creative with where messages come from. We chose body parts as a creative tool. Also, we send them at a time that is appropriate for fundraisers, for example, on a Friday evening when people might be tempted to have a drink. Or for people doing a fast from sugar, mid-afternoon when they were likely to give in to the boredom of work and have a treat."
Comer believes SMS also helps with relationship building, which ultimately aids fundraising.
"The more you can speak to people as a peer and as someone who understands what they are going through," he says, "the more they will get out of the month and the more they are likely to contribute funds themselves and encourage others to do the same."
A FebFast app (below) was also launched in 2014 – with the unique offering of 'Willpower Points', tallying how well a person is doing to encourage them to stay the distance – that was downloaded by around a third of participants.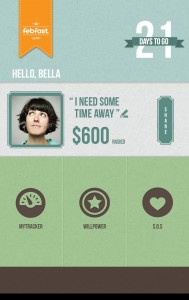 A new initiative for February 2015 will be giving participants more choice of alternative 'fasts': broadening from sugar and caffeine (introduced in 2014) to social media, smoking and junk food.
"Whilst FebFast will always be about an opportunity to take time off alcohol after a heavy period through Christmas and the New Year, a month of good health for all Australians is a good thing,"
says Comer.
"That's why we have cherry-picked vital health issues to encourage people to choose which one they'd like."
This article has been reposted from Fundraising & Philanthropy Magazine